A Prayer for Long Life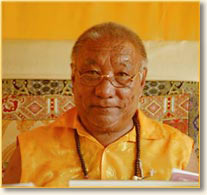 Khenpo Tsultrim Gyamtso
You are endowed with the glory of discipline, field of all qualities,
For you an ocean of Dharma's meaning appears clear and distinct,
In all ten directions, you sing melodious songs of the profound view and meditation,
Genuine spiritual friend, may you always remain.
---
This supplication for the long life of Khenpo Tsultrim Gyamtso, the unequaled spiritual friend, I make out of my own devotion to this genuine master, and also in response to the repeated requests of many groups of his Eastern disciples, who possess the jewel of faith. On the topmost floor of the Gyuto Ramoche Temple in the noble land of India, the one fortunate to receive the healing nectar of his excellent teachings, Karmapa Orgen Trinle Palden Wangi Dorje, makes this supplication with a clear mind, and may its aspiration be realized in precisely the way it has been made.
Translated by Ari Goldfield